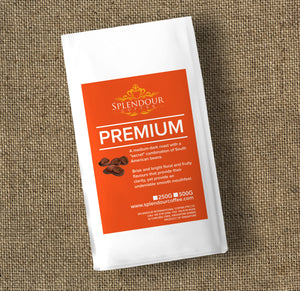 Splendour Premium Beans 500g
Sale price Price S$21.99 Regular price S$31.99
This is the perfect aromatic blend for coffee lovers who love venturing outside "normal". Coffee adventurers will enjoy its captivating complexity. Our all time top-selling blend. 
Get a tastes of our medium-dark roast with a "secret" combination of South American beans provides superb aroma, creamy body and an almost delightfully-sweet aftertaste. Packed in our superior mylar foil bags with keep-fresh one-way valves to seal that fragrant goodness so you don't miss out on any flavours!
Flavour Notes:
An engaging blend that reveals its nuances in layers. Brisk and bright floral and fruity flavours that provide their clarity, yet provide an undeniable smooth mouthfeel.
Get them while they are still available, limited roast batches each week.