Freshly Roasted Beans For Your Home and Top Commercial Coffee Roaster in Singapore
Use this text to share information about your brand with your customers. Describe a product, share announcements, or welcome customers to your store.
Love The Premium Blend
Great and smooth w unbelievable aroma. Especially the premium blend . Cant start my day without it.
Really Fresh
Bean freshness guarantee as lead time from the roaster to coffee machine is kept to a minimum.
Remarkable Value
Great coffee at a reasonable price.
Efficient Delivery And Fits Most Peferences!
Fresh locally roasted to fit most preferences. Well priced to be reasonable. Good quality. Convenient online order and efficient delivery so I don't have to run out of my favourite brews. Yes. I usually have more than one roast to cater to my wimps and fancies. Keep it up Splendour Coffee.
Great Local Brand!!!
I've been ordering coffee here for the bast 9 months. It's a great local brand, they have fantastic coffee and will have it delivered in next to no time. You won't be disappointed. Thank you Francis and team - please keep the coffee coming.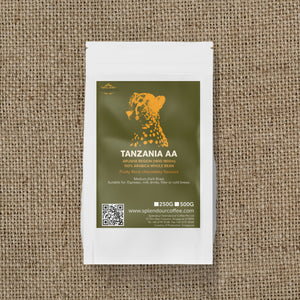 Tanzania AA Roasted Beans 500g
Sale price Price S$24.99 Regular price S$32.99
Coffee Bean Subscription For Singapore Customers
We've got a easy and flexible coffee subscription service that you can use and get 5% off for your following bags of coffee.
SUBSCRIPTION DETAILS
Roasted Fresh Coffee Beans
Save The Earth 🌳, And Your Tastebuds 👅 . Say No To Capsules.
Capsule Coffees give a certain level of convenience but you'll end up putting plastic and aluminium waste into the oceans, killing precious sea creatures or creating more landfills.
Do the earth and your health a big favour by choosing roasted whole bean coffees today.
GET FRESH FRESH BEANS
Your Day Gets Better With Fresh Flavours of Coffee
Scientifically proven to boost antioxidant levels, keep away chronic symptoms and improve productivity. Coffee is like a health potion.
Taste the Splendour Coffee difference.
Freshly roasted coffee always tastes the best. 
*coffee beans should be consumed within 3 weeks to ensure you get the full spectrum of flavours and of course, maximum enjoyment with every sip. 
How fresh is Our Coffee Roasts?
Wallet-Friendly High Quality Fresh Roasts
The quality is in the cup
Francis is serious about delivering real coffee roasting expertise in every bag
Your office coffee could use an upgrade
I was actually surprised that fresh coffee beans not only taste so much more flavourful, but also comes at a lower price than capsule coffees.
Hipster cafe coffee at the office and at home
Splendour Coffee's fresh Premium Blend is chocolatey and full bodied, just the way I like it.
Fresher Coffee Always Tastes Better
Capsules? Vacuum packs? Seriously?
Once coffee beans are roasted, they start to mature after 3-4 weeks and they really begin to lose their delicate flavours from 8 weeks, even if you keep it in a space-age, zero-gravity, vacuum container. All you get is the deep body flavours (which still tastes good, but not all that great.)
All coffee aficionados and experts alike will agree that freshly roasted coffee always beats any branded coffee that is pre-ground and kept in a bag or capsule for months before brewing.
Always go whole bean, grind on demand if you really want those delightful flavours!