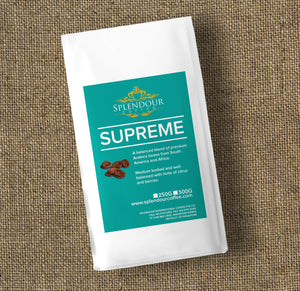 Splendour Supreme Beans 500g
Sale price Price S$22.99 Regular price S$33.99
Are those 3-in-1 coffees starting to taste bland? Are you overpaying for environmentally unfriendly capsule coffees that don't taste fresh at all? Are you ready for a big change in your coffee experience?
It isn't your fault that you are drinking ordinary run-off-the-mill stale coffee in your home and office. Instant beverage businesses will only market what is profitable to them and will have you believe that they give you the best coffee experience. 
The best tasting and expertly-roasted fresh beans have always remained out of reach to the average coffee drinker.
Until now. 
Delicious coffee needs to be delivered fresh and ungrounded to customers. Here at Splendour Coffee, we produce the freshest roasts at our local roasting facility in Singapore. This helps us delivery mind-blowing, life-changing coffee experiences to our customers.
We Present The Supreme Blend
A balanced blend of premium arabica beans from South America and Africa. This is our flagship blend that any espresso/coffee lover would enjoy.
Roasted For the balanced individual looking for variety but still enjoys the old-school earthiness and full-body coffee.
Flavour Notes:
Medium bodied and well balanced with citrus and berries highlights.
Stocks are limited. 
Discount period ends soon.
We deliver them only whole-bean to maintain maximum roast-freshness. 
(because, pre-ground coffee makes coffee stale in a matter of hours)
BUY NOW AND ENJOY Free local (Singapore) delivery for orders $40 and up.