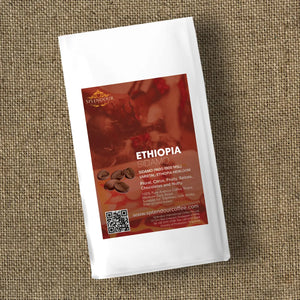 Ethiopia Sidamo Roasted Beans 500g
Sale price Price S$23.99 Regular price S$33.99
Note: This replaces our previously labelled "Roaster" Blend.

Ethiopia Sidamo has a uniquely wine, spice-filled and bouquet fragrance. Unparalleled in charm and distinctiveness.
Floral, Citrus, Fruity, Spices, Chocolates and Nutty
"👍🏻 Distinctively floral and with spice overtones" 
Elevation: 1600-1900 metres

Varietal: Ethiopia Heirloom
Great for Espresso, Milk-based Coffee, Drip, V60, Cold Brew 

Origin: Sidamo Ethiopia
Roast: Medium Dark
Did you know you are just one step away from amazingly delicious ☕️☕️ coffee?
The secret is out: 👍🏼World-Class Baristas👍🏼 only use the freshest roasted beans to extract out-of-this-world flavours with proper grinder settings. Fresh beans contain delicate flavours that make coffee taste heavenly. Capsules coffees and supermarket-stocked bags don't even come close to the flavours you get with our collection. 
We believe coffee-lovers invest in real value. While most coffee roasters only provide you 200g bags we send them out in 500g ones.
Upgrade Your Coffee Experience Now: One of the most sought-after beans in our collection: Ethiopia Sidamo. 
This is the premium choice created from a pure Ethiopian Sidamo beans. Renown for their uniquely winey-undertones and exotically-complex flavours. Roasted medium-dark for for the perfect balance of wine and body.
For the lover of single-origin coffees who delights in exotic overtones without acidity.
Flavour Notes:
Medium bodied with richness of wine and fruitiness balanced with an undertone of nuts. 
Every bag is sent out in a mylar foil bag with a one-way valve to lock in those amazing aromas 👃🏼. 
Stocks are limited.
Discount period ends soon, get them before they are gone!
We deliver them whole-bean to maintain maximum roast-freshness. 
(because pre-ground coffee gets stale in just about an hour, maybe much less.)
BUY NOW! ENJOY Free local (Singapore) delivery 🚚 for orders $40 and up.
Own a restaurant or need better coffee for your office? Please contact us for bulk order pricing! (hint: invest in greater value)